I am not a classical scholar. Nor am I a book historian, nor a literary critic. My field is publishing, and the technology of publishing. But I am a humanist, in my way. It is the humanities that animates the study of publishing and the love of the book, for books – and publishing – are about the expression of human experience. The tradition of the book, and of publishing, has been the central current of Western culture, and the tradition of the humanities for a very long time – and most especially for the past five hundred years. Aldus Manutius' part in that is key, for his time and work are in many ways an important watershed.
In the 1996 Festina lente booklet that accompanied SFU's acquisition of the Wosk-McDonald Collection, Dr Yosef Wosk wrote that the Aldine editions are important for five reasons:
they are among the finest examples of bookmaking history, content, and tradition;
they feature numerous technical innovations in the art of bookmaking;
they are an authentic bridge to an eternal continuum;
they will be used by scholars and students of publishing; and
they represent a technological universe parallel

 

to our own.
My professional and scholarly concern is generally with the second of these (Aldus' technical innovations) and to a subtler extent with the fifth (the parallels between the turn of the sixteenth century and that of the twenty-first). But right now, I want to dwell on the third of Wosk's reasons, that Aldus' books are "an authentic bridge to an eternal continuum."
The work of Aldus Manutius represents a watershed moment in history, the point at which the world of ideas, and of scholarship, went from being one which relied on personal networks and the necessity of physical presence of individual manuscripts – a network that, to put it in today's parlance, "doesn't scale" – to one in which the now scalable medium of scholarship suddenly "leveled up" to the point of relative ubiquity, enabling scholars – now scalable as well – to attend to the abstract thing called "the text." Before that time, manuscripts circulated among a network of scholars. After Aldus, texts circulated. The circulation of physical books came to occupy a different level of the system – an essential function to be sure, one in which printers and boksellers played defining roles.
This "leveling up" and scaling up of knowledge (and its circulation) we call publishing; it is where the the production and circulation of physical books touches the more ethereal world of the circulation of texts, and ideas. This Janus-faced operation – a system whose basic form and logic were hammered out in Aldus' shop five hundred years ago – has held sway in more or less the same form ever since. Publishers, in Aldus' image, stand with a foot in each world: concerned with the mechanics of production, distribution, and sales, and at the same time concerned with the universe of ideas and intertextuality that gives each book meaning, context, and significance.
We are today, by all accounts, at a similar watershed moment in history, where the physicality of books in general is poised to fall similarly away, a moment when the movability of texts and scholarship once again "levels up," enabling new opportunities for the interconnection and fluidity of knowledge. It is, in many ways, the apotheosis of Aldus' vision, in which scholarship, public knowledge, design, production, and spread of ideas and texts has never been stronger, never more lively.
Yosef Wosk wrote that Gutenberg may have invented the movable type, but that Aldus invented the movable book. He was referring, of course, to one of Aldus' most celebrated innovations: the portable pocket-book, which made possible reading for pleasure, or casual reading; or at the least, it enabled the integration of reading into other facets of life, where, freed from their heavyweight existence on lecterns and chained to library shelves, books could easily be carried and collected anywhere and everywhere. In the salon. In the kitchen. On horseback. On the bus.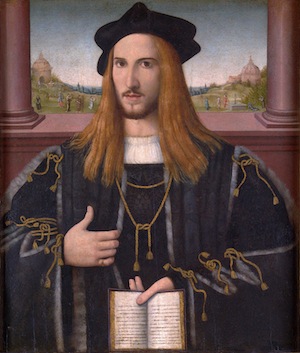 With his line of portable classics, Aldus ended the "desktop paradigm" of the fifteenth century. Today, we approach the same point with digital media and networks. While most of us still sometimes use the Internet while chained to a desk and wired to the wall, we now increasingly take the Internet – the world of ideas – with us wherever we go.
Between the years 1501, when Aldus launched the libelli portatiles – the famous little books, (using the hip, new italic type) – up to his death in 1515, the Aldine press released ninety-six books: thirty-nine in Greek, fifty-one in Latin, and six in contemporary Italian.
The bulk of these are the classics – works of philosophy and literature. A number of them are love poetry and erotic poetry in Latin. Several are about theology and the Church. Some, too, contain heresies and ended up banned by the Vatican. At least one is about alchemy. There are a lot of reference books – grammars, vocabularies, gazetteers, and criticism – and a good amount of contemporary literature, in both Latin and Italian.
Imagine what it must have been like to live in a city such as Venice in those years (never mind the threat of war with the French). This is a city from which is pouring, from a single publisher (there were dozens of contemporaries), an incredible range of titles. Most estimates suggest that the minimum print run was around a thousand – the same as with independent Canadian presses today. And, of course, some books became bestsellers.
Like a modern publisher, Aldus was building a list, or lists: one of his more overt agendas was to get all of classical Greek scholarship into print. His press printed nearly everything there was. Sophocles, for example (how many of us have read Sophocles?). Aristotle. Demosthenes. Aristophanes. Euripides. Many of these editions, such as Sophocles' Tragedies, were "editiones principes" – the first time they ever appeared in print. It is apparently the availability and wider circulation of these texts that motivated Aldus, originally a scholar and tutor, to engage in printing and publishing. In a famous 1496 preface, he wrote:
This is just what I predicted years ago, when I was not able to get a single copy from anyone on loan, not even for one hour. Now I have got what I wanted: Greek volumes are made available to me from many sources…. I do hope that, if there should be people of such spirit that they are against the sharing of literature as a common good, they may either burst of envy, become worn out in wretchedness, or hang themselves.
 – Aldus Manutius, "Preface" to Thesaurus cornucopiae, 1496, quoted in Barolini, Helen. Aldus and his Dream Book, New York: Italica Press, 1992.
Aldus' contribution to public knowledge – a Project that clearly still animates us – is immense, and perhaps unparalleled. Not only did Aldus see fit to curate and edit the 'canon' that he brought into print and therefore public circulation; he also developed the means to do so, in the form of his books and his innovations in typography, punctuation, and page layout. What he also developed was an audience for those books. Publishing, as a business venture and an outlook, seeks an audience for its works. But, importantly, it also creates an audience. People are not simply out there en masse, waiting for books to appear; publishing is also critically about the identification, nurturing, and engagement of the group of people who might possibly care about, and pay attention to, a book.
As the critical transition point between a world in which this sort of audience dynamic was an utter rarity and the world in which it occurs as an essential feature of cultural life, Aldus not only developed an audience for his books, he also provided the example for everyone else to follow. Aldus is a thoroughly modern publisher. His concerns are the same as any publisher today: how to acquire the best manuscripts; how to edit them for maximum effect to an imagined target audience; how to raise the capital required to print thousands of copies; how to design and produce the books to be attractive and desirable; how to get those thousands of copies to market and sell them; and how to keep going, year after year.
With all this talk about audiences and public knowledge, it is somewhat ironic that Aldus' books are today chained up in private libraries and "special collections" rooms. Despite their role in making print a ubiquitous feature of modern life, the Aldine editions themselves are not ubiquitous. They are extremely rare.
We sometimes get so focused on collecting and protecting rare manuscripts and books that we lose sight of their actual function and purpose in the world, and of their robust suitability to that purpose. – Andrew Steeves, "The Library as Workbench"
It is an honour, therefore, to help these fabulous books move into an environment where they can be at least perused online. These treasures of the early sixteenth century are now readily available to more people than at any point in probably four hundred years. The scanning has been done at a sufficiently high resolution to see not only the detail of the type, but also the ink's spread on the paper.
The fact that they are mostly in Latin and Greek should not discourage modern-day bibliophiles lacking a classical education, for Aldus' editions are magnificent examples of the art and craft of the book, and hold a wealth of fascinating detail for those who take the time to examine them. They are masterpieces of typography and printing. In these twenty-one volumes there are examples of at least five of the most influential typefaces in history, in greek, roman, and italic fonts. The artful typesetting in these books is sublime; that these books were made within fifty or sixty years of the invention of the technology of print makes it all the more wondrous; rarely in the intervening five centuries has it been done so well.
Aldus' many contributions should be seen as a gift to us: innovations, yes, but more importantly, that "authentic bridge to an eternal continuum," which is the gift of the humanities – may we never forget it. Our humble hope is that by bringing these books to the edge of the digital world that they will inspire more generations of scholars, publishers, and readers to take these traditions forward into new contexts, extending that bridge even further.